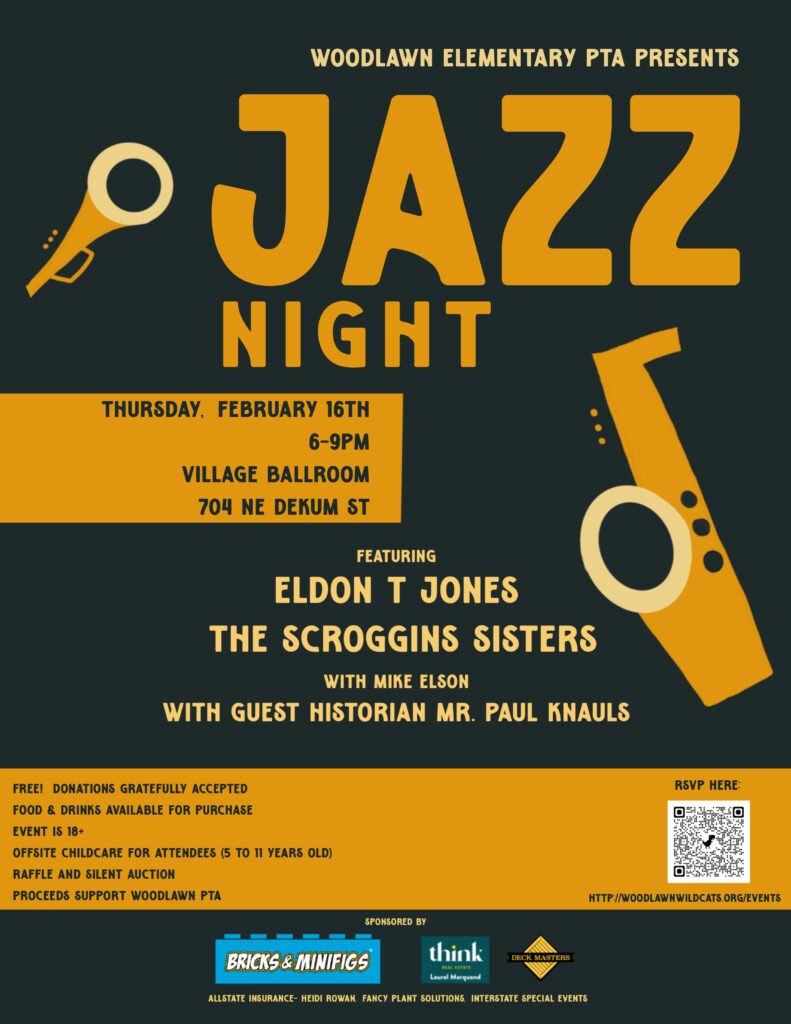 Jazz Night is back!  We are delighted to reinstate this special event celebrating our school community as well the Black music, culture and history of our neighborhood.
A menu of soul food (catered by TaylorMade) includes gumbo, BBQ chicken, prime rib, mac and cheese, and greens. 
Meanwhile at school, Woodlawn staff members have a fun evening planned for the kids, including a pizza dinner, musical performance by Mo Phillips, a movie, crafts, and games.  Childcare is free for Woodlawn students, ages 5-11, while their parents/guardians enjoy Jazz Night.  Pre-registration for childcare is required to ensure proper staff ratio. RSVP to reserve your child(ren)'s spot.
We'll also need lots of volunteers to chip in before, after, or during part of the night to help our event run smoothly.  Sign up here, and thanks!
Raffle prizes include: a Jazz Lover's basket (including gift cards to the 1905 and Speck's Records, and a jazz Lego set), a collection of Hawaiian goodies, two days' enrollment at Steve and Kate's Camp, and a 2-night Vacation rental near Mt. Hood.
In addition to traditional prizes, we also will offer "Slot Parties," which are events hosted by or services provided by Wildcat families for a set number of people. These include meal deliveries, a fishing trip, an art class, a private karaoke room at Voicebox, and an adult dance party at PivotPDX! Most of the slots for these events/services will be sold at a fixed price, but a few slots will be reserved for raffle winners.
All of this is in addition to our Silent Auction, which will include birthday party packages, two weeks of summer camp, date night packages, two more vacation rentals, and a Yacht Tub party!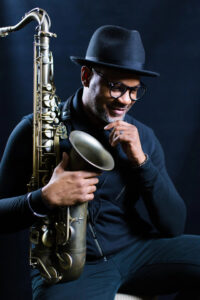 Eldon T Jones moves hearts through his profoundly genuine saxophone playing and a groove jazz style he's honed in Portland with his band N Touch. Eldon fell in love with music from listening to his uncles play saxophone and his mother sing. He began playing sax in his church and at Jefferson High School, then studied music at Mt. Hood Community College. Eldon started N Touch in 1995, releasing an acclaimed album, opening for Tower of Power and Earth, Wind, & Fire, even performing at a private event for Michael Jordan. His more recent releases under his own name have reached #1 on the UK Soul Chart, #1 on the Groove Jazz Music chart, and #4 on the Billboard Smooth Jazz chart. We are thrilled to have Eldon perform an intimate set with his quartet at Jazz Night.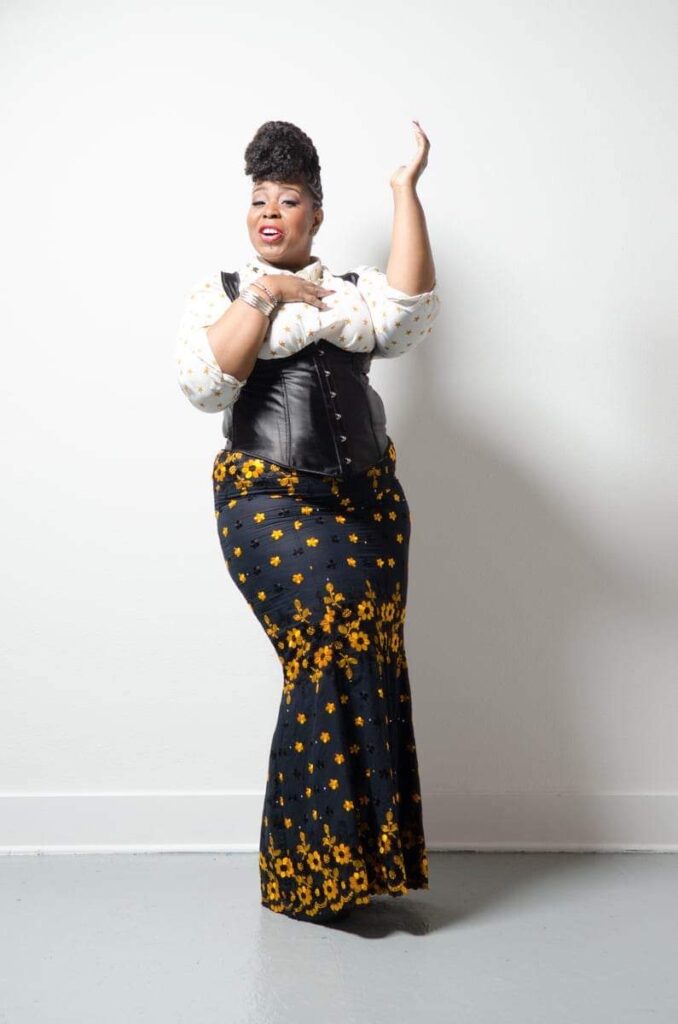 The Scroggins Sisters are Arietta Ward (aka Mz. Etta) and Nafisaria Mathews. The daughters of legendary jazz pianist Janice Scroggins, Arietta and Nafisaria grew up in North Portland surrounded by music. Both started singing at an early age and were soon gracing local stages with their powerful vocal talents. Mz. Etta, sometimes called "the First Daughter of Funk and R&B," was an original member of the Doo Doo Funk All Stars, and Nafisaria is an accomplished singer and guitarist. The sisters have performed together and apart through the years, sharing the stage with legends like Linda Hornbuckle, LaRhonda Steele, Norman Sylvester, Esperanza Spalding, Liv Warfield, and the Portland Cello Project. They'll be joined by pianist Mike Elson for a special trio performance in which they'll also pay homage to the lasting legacy of their mother.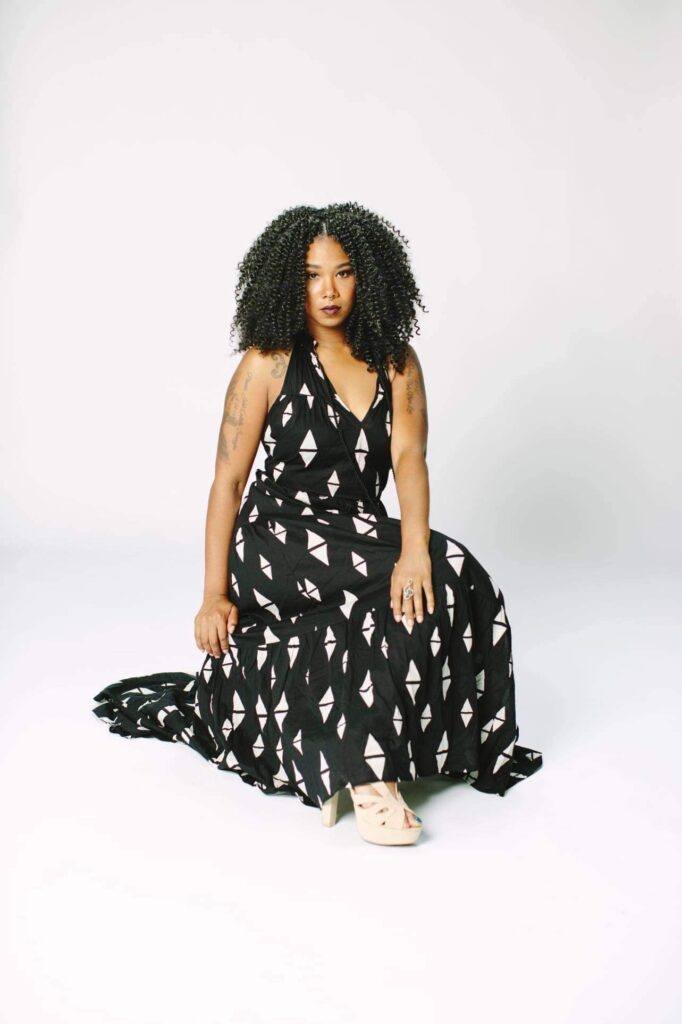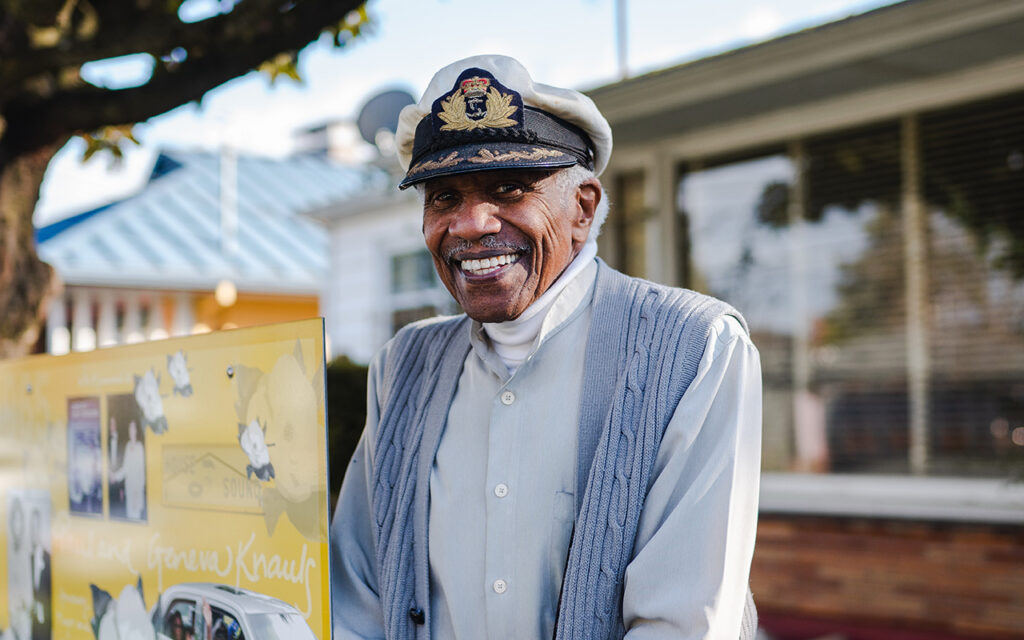 Mr. Paul Knauls is the "Honorary Mayor of NE Portland." Born in Huntington, Arkansas in 1931, he joined the Air Force just 17 days after graduating from high school. He became the first African-American to be stationed at Fairchild Air Force Base in Spokane, Washington. After his honorary discharge, he worked three jobs to save money to fulfill his dream of owning his own business. In 1963, Knauls bought Portland's Cotton Club, which became a hugely popular night club in the 1960s. Located at North Vancouver & Tillamook, the Cotton Club hosted the likes of Etta James, Big Mama Thornton and Sammy Davis Jr. When the construction of I-5 shuttered his building, Knauls and his wife Geneva went on to open several more businesses. Geneva's Shear Perfection, their beauty salon, was a hub for Portland's African-American community until it closed in 2020. We are honored that Mr. Knauls will be our guest historian at Jazz Night!