Ways to Get Involved at Woodlawn
What does "Get Involved" mean in a year of Distance Learning brought on by the Covid-19 pandemic? For now, we are listing the online events, fundraisers and volunteer opportunities at Woodlawn on this page, but are looking to expand the types of events and opportunities we list here. Have an event or opportunity that might belong? Maybe you have some ideas about what types of events you'd like to see here? Hit us up and let us know!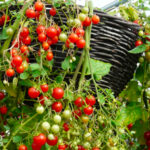 A Woodlawn PTA fundraiser sponsored by New Leaf Greenhouse
EVENT DESCRIPTION:
The 3rd Annual Spring Plant Sale is here, and so many plants to choose from! You can order full or half flats of the Garden Veggie Sampler or the Heirloom Tomato Sampler; 4″ pots of Geraniums; Patio Pots for sun or shade; and Hanging Baskets for sun or shade.
Click the order button to see detailed descriptions and place your order.
Pickup will be outside Woodlawn school on Friday, May 7th between 3 and 6pm.
ORDER DEADLINE: April 15th
PICKUP DATE: Friday, May 7th, 3:00-6:00pm
PICKUP LOCATION: Woodlawn Elementary